How can I go to Kailash Mansarovar from India?
For Indian Passport Holder, there are two options to go Kailash Yatra.
First one is by MEA of Government of India which is on Lucky draw basis.
Old route via Lipulekh which costs approx. Rs 1.8 Lakhs & takes 24 days.Trekking of 200 KMs is there in this route.
Another route by Gov of India is Nathula Pass in Sikkim which is by bus & takes 21 days to complete the Yatra. Again selection is on lucky draw basis & cost approx. Rs 2.5 lakhs.
If You take Nepal route there more options are available. There is no lucky draw compulsion & this is comparatively cheaper route. Time taken in this route is also less.
Overland route takes 14 days and costs Rs. 1.4 Lakhs. This Yatra starts from Kathmandu.
Helicoter packages starts from Lucknow & Kathmandu. Major packages starts from Rs. 1.8 Lakhs & take 5-11 days.
---
Can I climb Mount Kailash?
Chinese authorities have stopped giving permission for climbing on Mount Kailas. One can complete parikrama & can go near to mountain from some points but don't have permission to climb.
---
Do we need passport for Kailash Mansarovar?
Passport is essential requirement for Kailash Mansarovar Yatra. After registration, permit is applied on the basis of scan copy of passport and once permit comes, we apply for VISA. Permit takes approx. 30-45 days & VISA process takes 1 week.
---
What is the cost of Kailash Mansarovar Yatra
Kailash Mansarovar Yatra Costs differ with routes & packages. Below are major options Shiva Devotees have for performing the Yatra.
Kailash Mansarovar Yatra Package cost varies from Rs 1.4 Laks to 2.5 Lakhs.
Overland Kailash Yatrawhich happens by bus from Kathmandu costs approx Rs. 1.4 Lakhs . This is most effective route & throughout the Yatra is by bus.
Kailash Yatra by Helicopter Packagesstarts from Rs. 1.8 Lakhs & Yatra starts from Lucknow & Kathmandu. This Yatra route slightly lesser number of days & comfortable.
Kailash Mansarovar Yatra from Lhasaroute costs approx. Rs. 2.5 Lakhs & takes 14-15 days.
If You are planning for Kailash Yatra from Lipulekh Routethen it costs approx. 1.8 Lakhs. Yatra is executed by MEA of Government of India.Selection in on lucky draw basis & one need to trek for approx. 200 KMs. Total Yatra duration is approx. 24 days.
Kailash Mansarovar Yatra from Nathu-La Pass in Sikkim route is also executed by Government of India & costs Rs. 2.5 Lakhs. Selection is on lucky draw basis & Yatra takes approx. 21 days.
---
How to go Kailash Mansarovar Yatra from Delhi / Mumbai / Kolkata / Banglore / Ahmadabad
From Delhi / Mumbai / Kolkata / Banglore / Ahmadabad, If You are taking Helicopter package then there are two starting point options, 1stone is from Lucknow & Second one is Kathmandu. And if taking Kailash Yatra by Bus (Overland) or via Lhasa then its starts from Kathmandu & you need to arrive.
There is direct flight from Delhi / Mumbai / Kolkata / Banglore / Ahmadabadto Kathmandu & Lucknow. You can arrive Lucknow by train or bus too.
---
What is the best time to visit Kailash Mansarovar
Kailash Mansarovar Yatra starts from May & continues till September. May is the first month of Yatra & many people prefer going in 1stmonth. June has traffic because of summer holidays. April & June months are good but have huge rush which causes some waiting time & slight compromise in services. These 2 months are most preferable by people. July is rainy season so lesser number of people go but yatra happened smoothly for few years as there was not much traffic & no waiting. August & September have slight colder nights but are pleasant for Mount Kailash Parikrima. In complete Yatra normally night temperature is above 5 degree and goes down only in case of rain or occasional snow fall.
---
How To Register For Kailash Mansarovar Yatra 2023
Fill up Kailash Yatra 2023 Booking Form, scan colored image of your passport and Send soft copy of Booking form & passport at info@triptotemples.com
Transfer booking amount to Trip To Temples account & share transaction details on kailash@triptotemples.com Pay rest of the amount 1 month before Yatra date.
Fill up Kailash Mansarovar Yatra 2023 Registration form Attach 1st Last Page of valid passport 2 coloured photographs.
Pay Registration Amount in corporate bank account or online note transaction number, mention it on registration form.
E-mail Registration Form, Passport Scan & Transaction number on info@triptotemples.com accounts@triptotemples.com
Send self-attested hard copies on office address
Bank Account Details

HDFC Bank Ltd
ICICI Bank Ltd
Account Name : Trip To Temples u/o Divine Mantra Pvt Ltd
Account Name : Divine Mantra Pvt Ltd
Account No : 50200024533832
Account No : 662705600291
IFSC Code : HDFC0001345
IFSC Code : ICIC0006627
Branch Add : S -4, Green Park Extn. New Delhi
Branch Add : Kailash Colony, Delhi
SWIFT Code : HDFCINBB
SWIFT Code : ICICINBBCTS
Online Payment : https://www.triptotemples.com/kailash-mansarovar-yatra-registration
---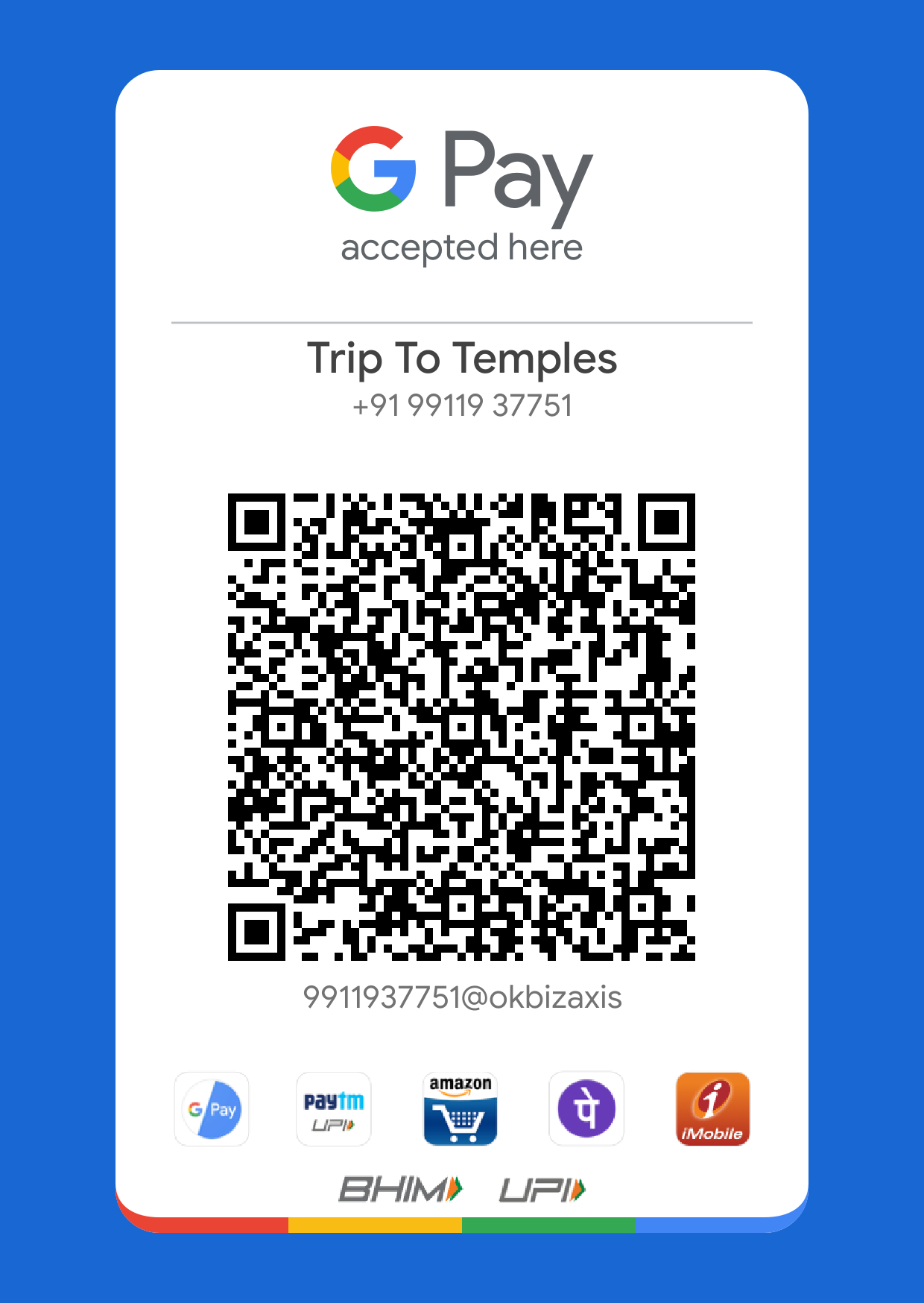 Scan to Pay By UPI
Name: Trip To Temples
Number: +91 9911937751
Mode: GPay / BHIM / PhonePe / Paytm
UPI Name: 9911937751@okbizaxis
Simple Steps to pay
Open any UPI app on your mobile
Scan the QR code and complete the payment from the mobile app
What is the Age Limit for Kailash Mansarovar Yatra 2023
Since Kailash Mansarovar Yatra is performed in difficult environment at high altitude so has certain restrictions in selection process. If You are applying the Yatra through Government of India, facilitated by Ministry of external affairs then complete health check-up process happens. MEA route has slight longer Yatra duration so after lucky draw also there is strict selection process happens. The minimum age limit is 18 years for Lipulekh route in Uttrakhand & Nathu-La-Pass in Sikkim.
In comparison to Government routes, Nepal route is slightly convenient & less time taking. Kailash Yatra selection process in this route is lenient also & has accepts pilgrims between age limit of 10 to 70 years.
---
How much luggage is allowed for Kailash Yatra:
One should carry minimum luggage for Kailash Mansarovar Yatra. If You are going through Helicopter route in Nepal then 10-12 KGs of luggage is more then sufficient . In overland route You may need slightly more cloths as this is longer route. Weight of your bag pack shouldn't be more then 2 KGs as You have to carry it on your own. Duffle gabs will be carried by Sherpas. Trip To Temple has its own list of Items need to be carried for Kailash yatra & shares approx 45 days before the Yatra Date.
---
How to get TIBET PERMIT / CHINESE VISA for Kailash Yatra:
Tibet Travel Bureau issues permit for Shri Kailash Mansarovar Yatra. We require coloured soft copy your valid passport (min 6 months validity from Yatra date) to initiate Tibet Permit processing. For VISA process, Indian residents need to send their valid passport to our Noida office, at least 1 month before journey date. NRIs /Foreigners from other locations need to carry it to Kathmandu where our representative will collect it for VISA processing. Chinese authority doesn't issue individual VISA & issued as group VISA for Shree Kailash Mansarovar Yatra. It's issued on paper & there is no stamping on passport.
Mt Kailash Yatra permit is applied approx. 45 Days before the Yatra date & Group VISA is applied once permit comes.
TTB (Tibet Travel Bureau) has full authority & final authority for issuances of travel permit. In recent times, we have observed smooth permit procedure still company doesn't hold any responsibility for deny / delay as its their discretion. We always try to make clear communications all points.
| | | |
| --- | --- | --- |
| Visa Type / Requirements | Indian Passport Holders | Non-Indian Passport Holders |
| Nepali Visa | Not Required | Required -Visa is given upon arrival |
| Chinese Visa / Tibet Permit | Required -Send Passport to Delhi TTT Office | Required -Color Passport Copies is required during KTM Arrival |
---
Kailash Yatra MAP
There are span 3 major routes for Kailash Mansarovar Yatra through Nepal.
Most popular is route is Helicopter Route & Group Yatra in this route mainly starts from Lucknow Kathmandu. Both of the group people get mixed at Nepalganj and fly for Simikot the to Hilsa by Helicopter. Yatra in Tibet part happens through Purang (Taklakot), Mansarovar, Darchen, Kailash Parikrima then return by same route.
This Helicopter rout takes 5 to 11 days in completing the Yatra.
Second is Overland route wherein throughout the Yatra is by Bus starts from Kathmandu. Till 2014, this Yatra was happening though Kodari Border but was stopped from 2015 to 2016 after earthquake in Nepal now started again through Kyirong Border. This route takes 14 days for completing the Yatra.
Overland Kailash yatra via Kathmandu route is most cost effective among all routes.
Another option is via Lhasa which is convenient, covers Lhasa-The Capital of Tibet but is expensive. This route takes approx. 14-15 for completing the Yatra.
---
Which CURRENCY is accepted at Kailash Mansarovar Yatra
INDIAN CURRENCY IN NEPAL:
Indian currencies, except Rs. 200, 500 & Rs. 2000 are widely accepted in Nepal. It's advisable to carry Rs. 100 notes for Nepal.
PERSONAL EXPENSES IN TIBET:
Only CNY (Chinese Yuan) is accepted in Tibet. You can exchange your INR or USD into CNY at Kathmandu or Kyirong (Nepal - Tibet Border). Majority of the people prefer to exchange currency at Kathmandu / Lucknow / Purang. It has been observed that your international debit cards & ATM cards don't work/accepted at most of the places so its advisable to carry approx 3000 - 75000 CNY/ person in cash to meet any exigency requirements. Pony Charges there is approx CNY 2800. Excess CNY can be converted to INR/USD at Purang / Kyirong / Kathmandu while returning.
---
What are the ITEMS TO BE CARRIED for Kailash Yatra
List will be shared with all travelling passengers approx. 45 days before the Yatra date.
---
ACCOMODATION facility in Kailash Mansarovar Trip
HELICOPTER ROUTE :
Kathmandu : 4 Star / Equivalent in Kathmandu on twin sharing basis. (can be upgraded to single occupancy by paying 75 USD / Rs 5000
Lucknow : Deluxe Hotel on twin sharing basis
Nepalganj :4 Star Hotel Siddhartha / Cygnett or similar on twin sharing basis
Simikot : Sun Valley Resort (Best Guest House in Simikot) or similar on multiple sharing basis. Each one will get seperate bed.
Purang (Taklakot) Hotel Purang / Hotel Himalaya or similar on triple sharing basis
Mansarovar : Guest House in on multiple sharing basis. Each one will get seperate bed.
Darchen : Hotel Himalaya
Derapuk & Zutulpuk : Guest House on multiple sharing basis. Each one will get seperate bed.
OVERLAND ROUTE
Kathmandu : 3 Star / Equivalent on twin shating basis for Overland travelers (can be upgraded to single occupancy by paying 55 USD / Rs 3500 /
Sybrubesi : Guest House in on multiple sharing basis. Each one will get seperate bed.
Kyirong, Saga, Darchen : Hotel on triple sharing basis.
Mansarovar : Guest House in on multiple sharing basis. Each one will get seperate bed.
Derapuk & Zutulpuk : Guest House on multiple sharing basis. Each one will get seperate bed.
*All accommodations are on sharing basis.
---
TRANSPORTATION MODE for Kailash Mansarovar Tour
OVERLAND ROUTE : Non-AC bus at Nepal side & AC buses at Tibet side.
HELICOPTER ROUTE :
Lucknow to Nepalganj : AC Coach
Nepalganj to SImikot : Flight
Simikot - Hilsa : Helicopter
Tibet Side : AC Bus
---
TOILET FACILITY in Kailash Mansarovar Tour
Toilets are available wherever Hotel accommodation is there. Since Trip To Temples offer 2 days Hotel accommodation at Purang (in Tibet Part) so gives more comfort. Guest Houses are having basic toilets which may not be up to the mark.
---
FOOD during Mount Kailash Tour
Hygienic vegetarian meals (Breakfast, Lunch & Dinner) is served throughout the journey. Normal & Hot water will be served with meals.
In Lucknow, Kathmandu, Nepalganj meals would be served in Hotel Buffet.
At rest of the places we have temperory kitchen setup process & fresh meals are prepared there as per group size.
---
MEDICAL FACILITIES at Kailash Mansarovar
There will not be any full time doctor with groups. Basic hospitals / clinics are available at many places in Tibet part of Yatra. As & when required, Liaison Officer / guide manage it on best possibility. On Tibet side, decision of Liaison Officer will be final in all circumstances. We recommend you to be sure about your physical fitness & health. To ensure you, it's advisable to go through medical check-up & work on fitness & yoga. Company doesn't hold any responsibility for any mis-happening due to non-disclosure of any disease/weak physical fitness/etc.
Caution: Use of any medicine without proper medical consultation may be harmful or even fatal at such high altitude. We strongly recommend you to carry recommended medicines by your qualified doctors. You should take advice on recommended medicines on this site too.
---
HIGH ALTITUDE DISEASE:
Due to high altitude, there is lower atmospheric pressure & lower oxygen density which results in High Altitude Disease. The major symptoms are nausea, headache, vomiting, breathlessness, disturbed sleep. We recommend you to Google on symptoms, precautions, remedy & prepare accordingly. You can consult Your family doctor for fitness level & precautions.
---
COMMUNICATION CONNECTIVITY at Kailash Mansarovar
You will get decent mobile connectivity throughout journey on roaming. Each Liaison Officer & our guide carry mobile phones for exigencies.
In Nepal & China, at both locations you can buy local sim by submitting passport copy. In overland route, most of the places during journey in Nepal & some places in Tibet, you get PCO for making calls to your respective countries. Calling through PCO is comparatively cheaper. PCOs are not available in Helicopter route.
There are different International Roaming Plans to cover Nepal or Tibet part which You can activated by calling Customer Care of your mobile operator. These plans have mobile data packs too. Most of the people buy local sim in Nepal & take Tibet / China plan in India sim.
If you are carrying your India phone on roaming without plan pack, ensure to deactivate your internet connection which has been witnessed very costly.
---
DO & DONTS in Kailash Mansarovar Yatra
Treat the mountains with respect & don't show your heroism there.
Walk in rhythmic pace, it will save you from early tiredness & accidents.
Drink a lot of water during trekking. Liquid diet will always help you. Keep 3-4 packets of electrol to be used during Kora (Parikrima).
Apply sun cream on exposed body parts, especially during Kora (Parikrima).
Mansarovar Lake water is usually very cold & if your body doesn't allow, then don't go far bath there. Sprinkling Mansarovar Lake water on body is believed equally to bath.
Trek in small groups. Trekking alone may result in risk.
Liaison Officer is supposed to be most experienced person for journey. All must follow his instructions in all circumstances.
Make sure to take proper meals throughout journey. Liquid diet will give you strength.
Don't carry heavy bag pack during Kora (Parikrima).
Never consume Alcohol during Journey.
---